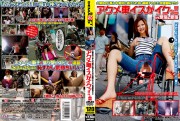 Review for serial SDMS-892 If this title doesn't make you smile and hot at times, nothing will. These are the titles we have come to know and love from Soft on Demand (SOD)! These cute young ladies are in the most insane sexual circumstances. This company has a reputation to protect and there titles are getting more extreme every day. I really enjoyed the title with bicycles that has dildos in the seats. Well, here we have wheelchairs where the dildo is much more capable of administering a deep insertion.
They actually do this in public and I'm convinced Japanese porn producers are just crazy. They show you how the contraptions work, introduce you to the model, test it out then send her for a day on the town!
Various Asian sluts in a wheelchair being fucked and pleasured with dildos and vibrators.
Categories for SDMS-892 : Bizarre WTF, Toys Machines, Voyeur-Upskirt
Models : Mami Orihara, Rui Asahina, Rina Ono